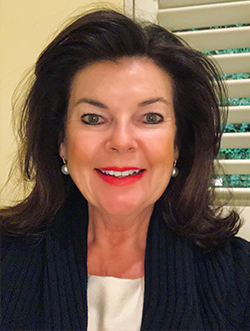 Dr Christine Biscoe received her Bachelor of Dental Surgery from Sydney University and commenced her career in dentistry with the Royal Australian Navy as a Surgeon Lieutenant. She completed further post graduate studies during her four years service.
On leaving the Navy, Christine worked in Double Bay and opened her own practice in 1987. She has always loved dentistry and is highly regarded in the profession where she is renowned for her technical excellence. The well being and comfort of patients are Christine's primary concerns and her genuine empathy with patients and obvious skill have won her a loyal patient base.
Christine has special interests in dental implants and cosmetic dentistry and works hard to maintain her currency in new techniques as they evolve. She is also an active member of the Australian Dental Association and a leader in the profession having held executive roles with the Dental Alumini Society and the University of Sydney Dental Faculty Foundation. Christine is a Fellow of The International College of Dentistry and The Pierre Fauchard Academy and was recently appointed by the NSW Health Minister to the Dental Council of New South Wales.
Raised and educated in the Eastern Suburbs, Christine is married with two sons. She still lives locally and is active in the community in a variety of forums.
Dr Veronica Lambert graduated from the University of Sydney with a Bachelor of Dental Surgery in 1982. She has been in practice since that time in the Eastern Suburbs of Sydney, and with Dr Christine Biscoe in Double Bay since 1993. Her practice is general dentistry and she particularly enjoys providing dental care to many generations within families ensuring their good dental health for life. Veronica regularly attends dental conferences to ensure her skills are up to date. Veronica served as a Captain (Reserve) in the Australian Army Dental Corps. For ten years Veronica was a volunteer forensic dentist and assisted in the identification of Bali bombing and the Boxing Day tsunami victims.
Veronica is a member of the Australian Dental Association.
Veronica is married with two children and one lovely grandchild. Her interests include gardening, choral singing, carillon playing and spending time with her friends.
Nadia Galutckaia  joined our team early in 2016 as Practice Manager/Receptionist after spending over 5 years as a Dental Assistant acquiring a deep professional knowledge of all aspects of general dentistry. This clinical knowledge, together with a keen interest in management, encouraged Nadia to expand her horizons by taking on the broader challenges of Practice Management.
In addition to her broad expertise in chair-side assisting and infection control, Nadia has a real talent for organisation and administration and she has introduced some excellent systems into the practice to improve efficiency. Nadia also enjoys interacting with patients and working hard to ensure their experience with the practice is as satisfying as possible. Outside of the practice, Nadia enjoys outdoor activities, travelling and cooking.
Irine Poliakov hails from Odessa in the Ukraine where she studied Dentistry for five years.  In 1996, she immigrated to Australia, married and commenced working as a Dental Nurse.  After establishing herself in Sydney, Irine completed a two year Dental Technology course and came to work for Dr Biscoe.  Then motherhood intervened and Irene delivered beautiful twin daughters Angelique and Michelle in 2004.  After a period at home caring for her new borne, Irine rejoined the practice and discovered the challenges of working whilst raising young children.
Irine is a highly skilled dental nurse with extensive experience.  She has a particularly kind nature which has makes her an ideal fit for the practice.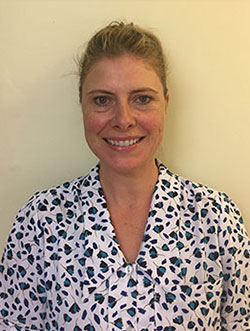 Shelby Salstrom is our lovely dental assistant who began her career in the US in 1995.
She is a fully qualified and registered dental nurse with extensive experience in all fields of Dentistry. Shelby has worked alongside specialists on many implant and orthodontics cases, large cosmetic cases and oral surgery. She has two beautiful children and enjoys outdoor activities.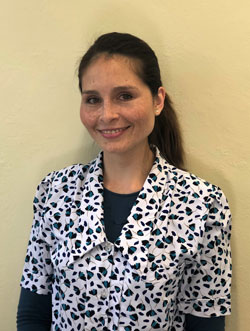 Isbel Sandoval has been in our practice as a qualified dental assistant for over a year. She is originally from Chile where she completed her Bachelor of Dentistry with Honours. She recently finished a Master of Philosophy degree at Sydney University, and hopes to further her academic and clinical career both in Australia and abroad.
Outside of work, Isbel enjoys hiking, painting with oil, reading a book while drinking a good coffee, and she also loves dancing.